Life-Mask Casting and Shamanic Journeying
for Individuals, Couples, and Families
Enjoy a magical exploration of your own inner worlds through the deep relaxation of the life-mask casting experience, while layers of plaster gauze are applied to your face under our nurturing care. Or bring a family member or friend, and experience the extra special bonding that can happen when you share this inner journey.
The result will be a wonderful plaster impression mask of your faces to take home with you. Also, the life-mask casting process offers a natural mode for entering deep into the shamanic journeying experience. The experience can be quite profound and transformative.
The Soul Impression Reading invokes our empathic insight to assist you in assimilating the Inner Radiance revealed to you through the wonders of the life-casting process.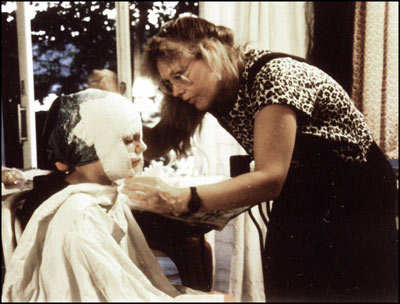 Life-Mask Casting Session, 1995
During the Life-Casting workshop, we will have both the experience of having a life-mask cast made of our face, as well as casting one for another participant.
With focused introspection we will enter into deep contact with The Self through the casting process. When the casts are complete we will share the experience of looking into ourselves in the way that only life-casting can provide, connecting with our own deepest essence, and experiencing the spiritual essence within.
A schedule of periodic workshops is ongoing in the Asheville, NC area. Please contact us if you are interested in having us bring a workshop to an area near you, or to your particular group.
4-hour workshop &nbsp &nbsp &nbsp &nbsp &nbsp &nbsp &nbsp &nbsp &nbsp &nbsp &nbsp &nbsp &nbsp &nbsp &nbsp &nbsp &nbsp &nbsp &nbsp &nbsp &nbsp &nbsp &nbsp &nbsp &nbsp &nbsp &nbsp &nbsp No previous experience required