Introduction to Journeying Training - now also available online
Shamanic journeying is a process for accessing information that is not necessarily available in Ordinary Reality through a process of Direct Revellation. We honor the ability of each individual to access their Compassionate Helping Spirits to find guidance and aid, and to enrich the quality of their lives.
In this introductory workshop, we will learn to journey into the World of Spirit and begin to build relationships with our Compassionate Helping Spirits for personal exploration, spiritual guidance, and community. Working with the sonic driven approach to journeying, our work will include the creation of Sacred Space, Lower World and Upper World journeys, and exploring Middle World protection.
This class provides beginning skills for further work in Shamanic trainings, Journey Circles, and other work offered by this instructor.
This training is available through Introductory Journey Circles in Asheville, NC, on the first Wednesday evening of every month. The other Wednesday evenings of the month, we offer journey circles for folks who have received the basic training. These circles are invaluable for practicing and honing your journey skills, and joining in community with other experienced journeyers. Please see our calendar for more information.
In this two-weekend training, participants will experience techniques for soul retrieval, power animal retrieval, diagnostics, soul remembering, and retrievals for specific body parts.
Participants will experience both giving and receiving soul retrieval.
Topics will include:
Causes and symptoms of soul loss
The use of healing stories in interaction with clients
Aftercare to help clients to integrate the healing work and continue to strengthen a connection with the true self
Ethics of performing these practices
Self care for the practitioner
The instructor, Gail Gulick, is authorized by Sandra Ingerman as a teacher of soul retrieval, shamanic extraction, psychopomp, Medicine for the Earth, and basic journeying trainings. This workshop is the equivalent of Sandra Ingerman's Five Day-Day Soul Retrieval Training.
There are Pre-Requisites
Demonstrated success with shamanic journeying, including Upper and lower world journeying.
A strong relationship with your power animal and spirit teacher. This training is for individuals who are experienced with shamanic journeying and are dedicated to their own path of unfolding through the guidance of their compassionate helping spirits.
Description of Soul Loss
When someone experiences illness, injury, or emotional trauma, the experience may be too difficult to bear, and a loss of soul essence can occur.
Parts of the soul that split off from the body may be unable to return on their own, leaving vital energies depleted. In some cases this depletion can be extreme.
Some signs that soul loss may have occurred: on-going feelings of bereavement, helplessness, confusion, isolation, or detachment.
During the shamanic practice of soul retrieval, the shamanic practitioner journeys into non-ordinary reality to locate these lost soul parts. With the help of her helping spirits, the practitioner is able to recover the lost soul parts and return them to the client's body.
After the recovery of the missing soul parts, and the practice of compassionate self-care, a sense of safety, trust and compassion towards the self may also return.
During this two day workshop you will learn what a spiritual intrusion is, how we get them, and some methods for discerning and removing intrusive spiritual energies from another person. We will discuss how to prevent sending out intrusive energies to others, and work with some methods for building and retaining power in our day-to-day lives, and in preparation for shamanic healing work.
Working with partners we will use diagnostic tools, and both perform and receive an extraction. This workshop is for those who would like to learn to practice this healing technique. It is not for those who are seeking healing for themselves.
Pre-requisite:
Solid Upper World and Lower World shamanic journeying experience and a good connection with your power animal and teacher. Any middle world protection workshop with this instructor.
Two day training
In this two day workshop we will explore the shamanic perspective on death and dying, and actively engage with the power of death as a profound path of shamanic initiation.
We will learn ways in which to help those who are engaged in the end of life process to prepare for their imminent passing, and discuss ways in which a successful crossing may be inhibited. Techniques will be explored for assisting disembodied souls whose crossing was unsuccessful to complete their journey to the Afterlife.
Ways in which to cultivate a path of power so that we may be power-filled when engaging in shamanic work will be discussed.
We will explore the cosmology of the Afterlife, hold a ceremony for assisting a group of discarnate souls who are seeking assistance in completing their way to the Afterlife, and offer psychopomp assistance to a loved one who has passed on.
We will also discuss the ethics and principles for doing Psychopomp work, as well as the the use of language and the importance of a respectful perspective surrounding each individual's personal paradigm regarding their spiritual beliefs surrounding death and dying.
The instructor, Gail Gulick, is authorized by Sandra Ingerman as a teacher of soul retrieval, shamanic extraction, psychopomp, Medicine for the Earth, and basic journeying trainings. This workshop is the equivalent of Sandra Ingerman's Five Day-Day Soul Retrieval Training.
Pre-Requisites for Applying to this training include
Demonstrated success with shamanic journeying, including:
Upper and lower world journeying.
A strong relationship with your power animal and spirit teacher.
This training is designed for participants who are experienced with shamanic journeying, and allied with their compassionate helping spirits, and is not intended as a vehicle for participant's own healing.
Two day training
In this two day workshop we will learn techniques for transforming personal perceptual blocks, inhibiting belief systems, and internal conflicts through the practice of Spiritual Transfiguration. Drawing on the Power of Spiritual Light, we will deeply engage our own Divine essence as a catalyst for profound change in ourselves and in our lives.
In this workshop
Discover what it is to experience yourself as a living reflection of the divine nature of all living things.
Learn how to embody sacred presence to shift your own consciousness and to transform personal and environmental toxins.
Experience the transmutation of limiting beliefs, and attitudes, and toxic emotional charges.
Explore how to work in cooperation with helping spirits and align with the natural world to heal personal, community, and environmental challenges.
For more information on Sandra Ingerman's ground-breaking work see her article on Medicine for the Earth.
Two day training
Focused training in Celtic shamanism is available in dedicated weekend trainings and ongoing shamanic journey circles. Weekend trainings will be posted here as they become available.
The Wild Hunt: Celtic Psychopomp Ceremony
In Celtic tradition, Samhain (pronounced "Sowen") is a time when the veils between the worlds are thin, when wayward spirits of the dead seek resolution, and when the forces of chaos challenge our determination to survive and flourish. The season of Samhain calls on the seeker to make a stand for life to take them through the hardships of Winter, and to engage in ceremony dedicated to assisting our dead in finding their way.
Join us for a long weekend exploration of the rich traditions of Celtic lore, and the powerful ceremony surrounding the special magic of late Autumn and early Winter. We will experience the multi-faceted approach to Celtic psychopomp work, and learn how to engage with the diverse spirits whose specific roles contribute to the fabric of the Wild Hunt ceremony.
Employing the tools of the spiritual warrior, through ritual battle, we will engage with the wild forces of the Fall, while tending to the spirits of the dead who are seeking to transition to the next phase in their own journeys.
Please note:
This is advanced work that can be particularly triggering. The requirements for participation in this advanced shamanic training include:
solid journey skills and strong relationships with your helping spirits
a strong commitment to personal accountability
a willingness to promptly and directly address personal and energetic issues that may arise during your experience in this training. Guidance will be given at the beginning of this training.
the willingness and awareness to perform personal energetic housekeeping as needed. Guidance will also be given.
Two and a half day workshop
During the Life-Casting workshop, we will have both the experience of having a life-mask cast made of our face, as well as casting one for another participant.
With focused introspection we will enter into deep contact with The Self through the casting process. When the casts are complete we will share the experience of looking into ourselves in the way that only life-casting can provide, connecting with our own deepest essence, and experiencing the spiritual essence within.
Four Hour Workshop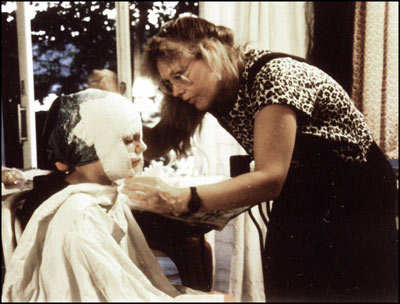 Life-Mask Casting Session, 1995
Life-Mask Casting and Shamanic Journeying for Individuals, Couples, and Families
Enjoy a magical exploration of your own inner worlds through the deep relaxation of the life-mask casting experience, while layers of plaster gauze are applied to your face under our nurturing care. Or bring a family member or friend, and experience the extra special bonding that can happen when you share this inner journey.
The result will be a wonderful plaster impression mask of your faces to take home with you. Also, the life-mask casting process offers a natural mode for entering deep into the shamanic journeying experience. The experience can be quite profound and transformative.
---
Gail Gulick reserves the right to cancel any workshops or the participation of anyone, at any time for any reason. In such a case, fees paid in advance will be refunded.






]